Our Team
Meet our team of healthcare professionals
Our team of general practitioners are here to help you with all of your medical requirements. As one of the most established medical centres in the area, we are dedicated to continuing to care for our wider community.
Meet our doctors: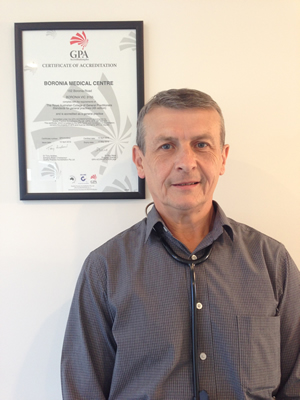 Dr. Michael Sosnin
Dr. Michael Sosnin graduated from Melbourne University in 1980. His qualifications include FRACGP (1994).
Michael's interests include a broad range in family medicine with a special interest in:
He speaks Russian and enjoys teaching medical students and martial arts.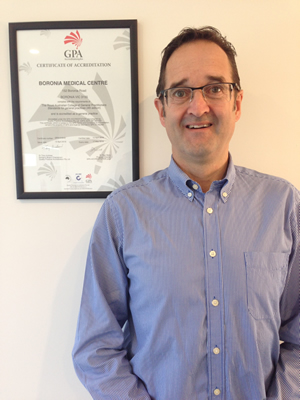 Dr. Gordon Walling
Dr. Gordon Walling graduated from Monash University in 1987. He became a Fellow of the Royal Australian College of General Practitioners in 1994.
Gordon has special interests in:
DIABETES,
HYPERTENSION and
PREVENTATIVE CARE
He enjoys golf, cycling and Richmond Football Club victories.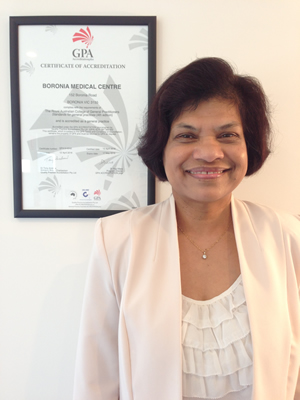 Dr. Theja Seneviratne
Dr. Theja Seneviratne graduated from the University of Peradeniya, Sri Lanka, in 1986 before migrating to Australia in 1988.
Her qualifications include MBBS, FRACGP and a Diploma in Dermatology. She has worked in Victorian Public Hospitals for several years before entering into General Practice, joining Boronia Medical Centre in 2007.
She has extensive experience in Emergency Medicine and her special interests include:
DERMATOLOGY,
PAEDIATRICS and
TRAVEL MEDICINE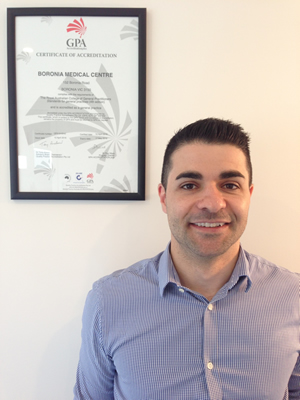 Dr. Huseyin Ibrahim
Dr. Huseyin Ibrahim completed a Bachelor of Health Sciences in 2008 at Deakin University. He then went on to complete his medical degree in 2012 at Deakin University. Huseyin completed his internship and residency at Eastern Health. He completed the GP registrar progam and attained fellowship in 2017.
His special interests are:
GENERAL MEDICINE,
MEN'S HEALTH,
DERMATOLOGY and
PAEDIATRICS
Huseyin also performs iron infusions, minor skin procedures and implanon insertions at Boronia Medical Centre.
He is also a certified MS-2 Step prescriber (medical termination/abortion provider)
His life outside Boronia Medical Centre is kept busy with a young family and two dogs.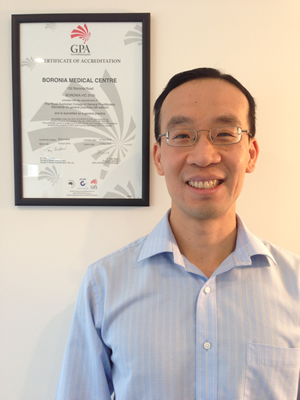 Dr. Gavin Lim
Dr. Gavin Lim graduated from the University of Melbourne in 1996.
He is interested in:
He works at Boronia Medical Centre Monday to Friday.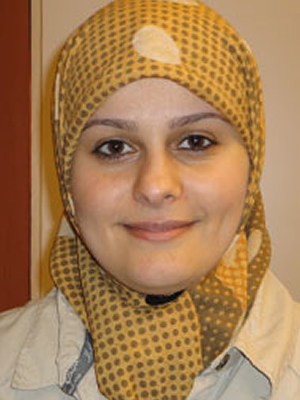 Dr. Resha Abbas
Dr. Resha Abbas graduated from Babylon University School of Medicine, Iraq (M.B.Ch.B) in 2001.
Resha's qualifications are FRACGP and a Diploma in O&G (RANZCOG) 2006. The internship was completed in Iraq.
She moved to Australia in 2004, completing her Australian Medical Council examinations in 2004.
Resha started working in major public hospitals in fields including geriatrics, orthopaedics, paediatrics, internal medicine and emergency medicine.
Resha's interests include:
OBSTETRICS,
GYNAECOLOGY (including prenatal, antenatal and post-natal),
WOMEN'S HEALTH and
PAEDIATRICS
Resha also does shared care with both the Angliss Hospital and Box Hill Hospitals. Resha entered general practice in 2010 and enjoys working at Boronia Medical Centre.
Her other interests are travelling, gardening and she enjoys her time with her 3 lovely boys and husband. Resha also speaks Arabic.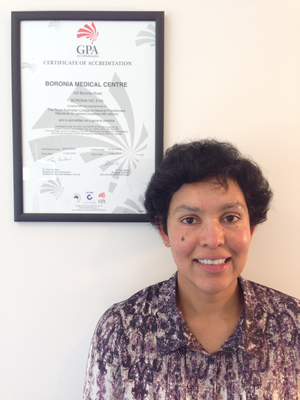 Dr. Rukmi Seneviratne
Dr. Rukmi Seneviratne obtained her MBBS from Sri Lanka in 1997. She came to Australia to read for a Masters Degree at Monash University.
Upon completion of her Masters Degree she took up hospital medicine and then chose General Practice as a career. Her Qualifications include MBBS, MCE(Monash) and FRACGP.
Her special interests include:
PAEDIATRICS,
DERMATOLOGY and
NEUROLOGY
Outside work she enjoys travelling and spending time with her family. Rukmi speaks fluent Sinhala.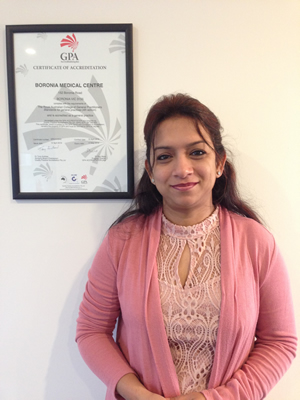 Dr. Rafia Akhter
MBBS, FRACGP
Rafia is committed to and passionate about delivering high-quality healthcare to her patients in the community through her work with the Boronia Medical Centre.
She graduated from Dhaka University, Bangladesh in 2001 and practiced in the field of women's healthcare in Bangladesh. Rafia came to Australia in 2005 and finished multiple rotations in different hospitals in Victoria. She achieved her fellowship in general practice in 2013.
Rafia is skilled in all aspects of General Medicine and takes special interest in:
PAEDIATRICS,
WOMEN'S HEALTH and
AGED CARE
Rafia's non-clinical interests include voluntary community work, music and travelling.
Dr. Madeleine Huynh
CURRENTLY ON MATERNITY LEAVE
Dr. Madeleine Huynh completed her Bachelor or Biomedical Science with Honours at Monash University in 2005. Following that, she studied medicine at The University of Queensland and graduated in 2009.
Upon returning to Melbourne, Madeleine did her residency years at Eastern Health, after which she decided to enter General Practice and now practices as a Fellow of the Royal Australia College of General Practice.
She enjoys all areas of medicine, but has particular interest in:
PREVENTATIVE MEDICINE and
WORKING WITH CHILDREN
Outside of work, Madeleine enjoys spending time with her family and friends, travelling, adventure, most sports and playing music.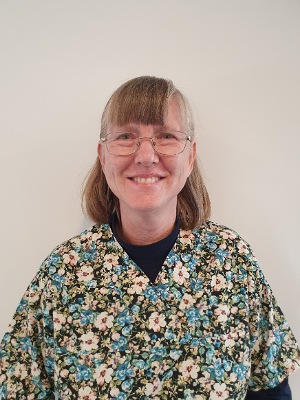 Dr. Jeanette Greer
Dr Jeanette Greer graduated from the University of Melbourne in 1985, She completed her intern year at St Vincent's Hospital before commencing training for General Practice.
She completed the RACGP Family Medicine Program in 1991. She has worked in the Eastern Suburbs of Melbourne since 2001 and has returned to Boronia Medical Centre in 2019.
Jeanette's interests include: WOMEN'S HEALTH and PREVENTATIVE CARE.
Outside work she enjoys playing tennis and travelling.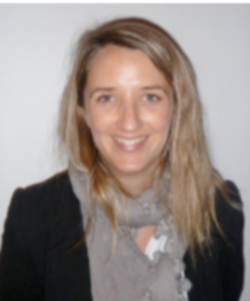 Dr Catherine (Katey) Goldsmith
Dr Catherine Goldsmith completed her Medical degree at Deakin University in 2013 and did her internship and residency at Western Health. She has completed her Diploma in Obstetrics and Gynaecology at The Royal Women's hospital and is passionate about women's health. She loves Family Medicine and is soon to complete her General Practice training.

Special Interests
- Women's and Children's Health
- Family planning including: preconception counselling, shared antenatal care (From June 2021), contraception advice, and Medical Termination of Pregnancy (Registered MS2Step Prescriber)
- Procedures: IUD (Intrauterine Device) insertion, Implanon insertion, Iron infusions, Minor skin procedures

Dr Catherine Goldsmith is also training in aesthetic skin procedures and plans to do further study in skin cancer medicine.

Outside of Medicine Catherine enjoys hiking and camping with her husband and two young boys as well as gardening, pottery and trying to relearn the piano.
Dr Fang Chen
Fang joined our team in February 2021 as a GP registrar.
Fang grew up in Melbourne and initially studied a Bachelor of Biomedicine at Melbourne University before completing a MBBS at Monash University. He subsequently worked at Latrobe Regional Hospital in Gippsland for 2 years across a variety of different medical specialities before starting his GP career. He has also recently completed a Diploma of Child Health.

Fang enjoys all aspects of general practice and has an interest in preventative health, paediatrics and mental health.

Fang can also speak mandarin (Chinese) and in his spare time likes to travel, snowboard and play chess